#FFFFFF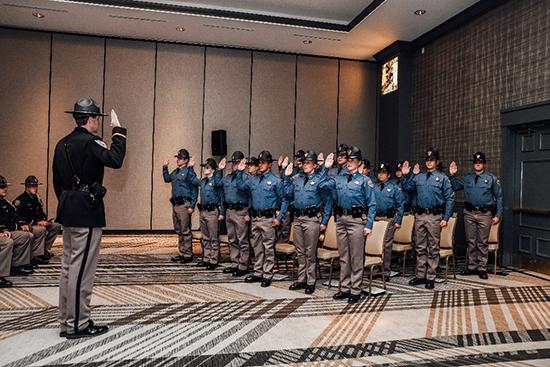 A Colorado State Trooper has a direct impact in protecting life and serving Colorado's communities.
Colorado State Troopers are integral in protecting communities across the state and ensuring our roadways remain safe for residents and visitors alike. The high-level training and top-notch skills provided to our Cadets and troopers through continued education opportunities are what set our agency apart. Learn more and take the next step into this fulfilling career today.
View detailed information about the CSP Academy
#FFFFFF

ALL COLORADO STATE PATROL TROOPERS MUST FIRST BECOME CADET INTERNS.
#FFFFFF
Cadets: A Colorado State Patrol Cadet trains to become a fully functional State Trooper to patrol highways and ensuring public safety by enforcing all state and federal laws pertaining to the traffic network. A Cadet will also train to analyze trends and statistics in order to determine the appropriate enforcement processes to be used in accomplishing task goals. Some duties and activities that are consistent with becoming a Cadet are listed as follows.
#FFFFFF
A Colorado State Patrol Cadet trains, assists and learns to:

Investigate traffic crashes, auto thefts, livestock thefts, drug trafficking and citizen complaints,
Determine whether civil or criminal laws have been violated and learn the appropriate enforcement process,
Write reports mandated by Patrol policy and state and federal laws that document enforcement and investigative activities,
Develop case files for prosecution,
Testify at hearings and trials,
Respond in emergency situations involving, but not limited to: lives in jeopardy, assisting other agencies, disaster mobilization and crowd control. A Cadet learns to formulate action plans that anticipate continuously changing circumstances and how to resolve emergencies,
Attend training and certification courses in technical law enforcement skills including, but not limited to:  Firearms, First Air/CPR, driving, de-escalation, intervention, arrest control tactics, and physical agility, and,
Perform other duties as assigned.

Starting Cadet Salary: $6,406 per month

 

Individuals participating in the Cadet Academy and Field Training Officer program are considered Cadets and receive the Starting Cadet Salary.

 

Starting Trooper I Salary: $7,569 per month

After completing the academy and field training officer program, individuals are promoted to Trooper I. This class describes the fully-operational Trooper. Positions in this level have primary responsibility for enforcing motor vehicle and criminal laws by patrol work that includes traffic control, investigating crashes, helping motorists with emergencies or mechanical breakdowns and some crime prevention. Some positions in this class may perform special law enforcement assignments in such areas as hazardous materials route enforcement, interstate commercial transportation enforcement and special security or escort duties.

Note: CSP does not currently allow lateral transfers from other law enforcement agencies directly into the Trooper I Classification. All new hires must become Cadets before promoting to Trooper I. 
#FFFFFF
Speak with our recruiters today
The Colorado State Patrol has a very diverse member knowledge base. The recruiters listed below will be able to help direct you to the career opportunities available within the Patrol. As you move along in the hiring process these are the people you will meet along your path to a new and exciting career!
The mission of the Colorado State Patrol Selections Unit is to actively recruit the finest applicants through an impartial, standards-based selection process. The Selections Unit works in conjunction with background investigators who conduct rigorous, concise, in-depth background investigations utilizing professional law enforcement screening practices.
We strive to inform our applicants about our hiring process and the rewarding and stable career the Colorado State Patrol has to offer you. As you move along in our hiring process feel free to contact one of our recruiters at any time.
#FFFFFF
Getting Started – Next Steps in becoming a Colorado State Patrol Cadet.