#FFFFFF

A Public Information Officer is on-call 24 hours a day, seven days a week to answer media questions.
If you are a member of the media and need to contact the on-call Public Information Officer please call (303) 239-4583.
For media members who would like to receive our media announcements, please sign up via the link below.

The Public Affairs Section of the Colorado State Patrol (CSP) is the public information source for the general public and Colorado's news media.
Some of the activities conducted by the Public Affairs Section include: General safety programs, public educational media events and briefings on the Patrol's DUI, seat belt, aggressive and inattention driving behaviors, speed, enforcement, and other traffic safety activities.
The Public Affairs Section also coordinates Colorado traffic safety programs with its counterparts in the federal government such as the National Highway Traffic Safety Administration (NHTSA) and state organizations such as the Colorado Department of Transportation (CDOT). Additionally, this Section works closely with numerous corporate and community organizations to reduce traffic crashes, as part of the Patrol's ongoing mission to save lives.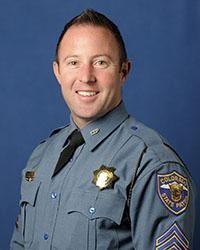 Sergeant Troy Kessler
Public Information Officer
Troy.Kessler@state.co.us
(303) 239-4574
Trooper Josh Lewis
Public Information Officer
Joshua.Lewis@state.co.us
(303) 239-4583
Master Trooper Gary Cutler
Public Information Officer
Gary.Cutler@state.co.us
(303) 239-4583
#FFFFFF
(Colorado) - Seeing a camper, boat or trailer swiftly moving side to side as it is pulled down the road can put fear into most passing motorists for good reason, it can be deadly. Ensuring the vehicle is hitched safely, distributing the weight on the trailer or camper properly and driving responsibly is key in avoiding trailer sway.
(COLO) – Over a three-year period, from 2019 through 2021, Colorado State Patrol troopers have investigated over 1,750 fatal and injury crashes determined to be caused by impaired drivers. Year after year numbers expands during warmer months with the top month for impaired crashes being July. 
(COLO) – If you hold a valid driver's license, chances are pretty high that the driving instructor or manual you read to prepare you for driving covered the importance of being intentional about where you placed your vehicle in the lane as you were driving.