#FFFFFF

A Public Information Officer is on-call 24 hours a day, seven days a week to answer media questions.
If you are a member of the media and need to contact the on-call Public Information Officer please call (303) 239-4583.
For media members who would like to receive our media announcements, please sign up via the link below.

The Public Affairs Section of the Colorado State Patrol (CSP) is the public information source for the general public and Colorado's news media.
Some of the activities conducted by the Public Affairs Section include: General safety programs, public educational media events and briefings on the Patrol's DUI, seat belt, aggressive and inattention driving behaviors, speed, enforcement, and other traffic safety activities.
The Public Affairs Section also coordinates Colorado traffic safety programs with its counterparts in the federal government such as the National Highway Traffic Safety Administration (NHTSA) and state organizations such as the Colorado Department of Transportation (CDOT). Additionally, this Section works closely with numerous corporate and community organizations to reduce traffic crashes, as part of the Patrol's ongoing mission to save lives.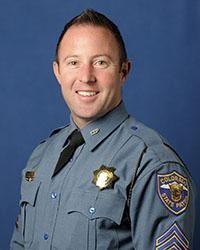 Sergeant Troy Kessler
Public Information Officer
Troy.Kessler@state.co.us
(303) 239-4574
Trooper Josh Lewis
Public Information Officer
Joshua.Lewis@state.co.us
(303) 239-4583
Master Trooper Gary Cutler
Public Information Officer
Gary.Cutler@state.co.us
(303) 239-4583
#FFFFFF
(COLO) – Drivers aren't the only ones at greater risk on the roads in winter. Pedestrians are injured in winter crashes too. Over the last three years (2019-2021), Colorado State Patrol data revealed that December (17%) averaged the highest number of pedestrian-caused crashes than any other month of the year.
(Colorado) – If the winter wonderland of the Rocky Mountains is calling your name – whether its time to hit the ski slopes, take your snowmobile out for a ride or just seek a quiet space surrounded by the beauty of the season - it's important to remember the dangers of navigating the region's snow packed and icy roadways.
(COLO) – Earlier today, the Colorado State Patrol proudly graduated 11 new Port of Entry Officers after they successfully completed an intensive nine-week academy. These are non-post certified officers that help to ensure safe travel on Colorado roadways through enforcement of state and federal size, weight and safety regulations of the commercial motor vehicle industry.