The shoulder patch worn by members of the Colorado State Patrol illustrates the beauty of our state and the proud tradition of our uniform. Detailed below is a history of the patch and how it has changed throughout the years.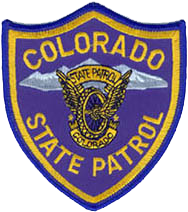 1999-Present
In April 1999, a new patch designed by Corporal John Lupton was adopted by the Colorado State Patrol. Using the same shield shape and colors as the previous patch (see below), the new design featured the "Flying Wheel" logo superimposed over a mountain range. The "Flying Wheel" logo has been used as a hat badge for the Colorado State Patrol since 1935 and sets us apart from other agencies in the state. The blue color surrounding the snowcapped hills signifies the open skies over the Rocky Mountains. The gold represents the rich mining history in Colorado. This patch is worn with pride and integrity and exemplifies the professionalism of the Colorado State Patrol, which has served Colorado since 1935.
The Colorado State Seal was a prominent part of the first three Colorado State Patrol patches. At the top of the State Seal is the Mystic Triangle with the eye of the Creator in the center. Below the triangle is a scroll, the Roman Faces, which is above a Heraldic Shield bearing three snow-capped mountains. In the lower portion of the shield is a crossed miner's pick and mallet, symbolic of the early miners who came to Colorado in search of their fortunes. Below the Heraldic Shield is a banner with the State Motto "NIL SINE NUMINE," meaning "Nothing Without Divine Providence."
1948-1999
In 1948, Captain E.G. Eyre designed a shoulder patch for use on uniform shirts. The basic design of the blouse jacket patch was reduced in size and centered within a four-pointed shield. In the early 1990s, twill versions were used on the coveralls for Troopers in the Motor Carrier and Hazardous Material Sections. In January of 1996, the decision was made to phase out the use of felt patches and use the twill patches on all uniforms.
1946-1949
In 1946, the patch reflected the name change of the organization. Although the basic design was left unchanged, the wording on the patch was changed to "Colorado State Patrol." The large patch was phased out in 1949 when leather jackets replaced the daily use of blouse jackets.
1938-1946
In 1938, the original patch of the Colorado State Highway Courtesy Patrol was designed by Chief Joseph J. Marsh. The patch encompassed the entire portion of the blouse jacket sleeve and was comprised of the State Seal and the wording "Colorado Highway Patrol."