#FFFFFF
Major Brett Williams

District 5 Commander
20591 Highway 160
Durango, CO 81301
(970) 385-1675
Dispatch: (970) 249-4392
Brett.Williams@state.co.us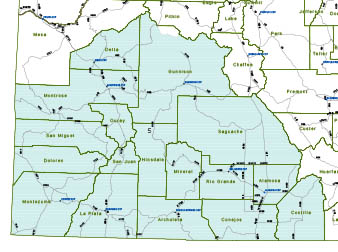 District 5 encompasses the following counties: Alamosa, Archuleta, Conejos, Costilla, Delta, Dolores, Gunnison, Hinsdale, La Plata, Mineral, Montezuma, Montrose, Ouray, Rio Grande, Saguache, San Juan and San Miguel.
Troop offices are typically open Monday through Friday from 8 a.m. to 5 p.m. Please call your local troop to ensure availability.
For emergencies call 911. For general information call (303)239-4500.
Cortez - Post
33053 Highway 160
Mancos, CO 81328
(970) 249-4392
(970) 564-9566 (Fax)
Dispatch: (970) 249-4392
San Luis Valley - Post
401 Monroe Street
Monte Vista CO, 81144
(719) 852-5751
Montrose Troop 5C
2420 North Townsend Avenue
Montrose, CO 81401
(970) 249-9575
(970) 240-8735 (Fax)
Dispatch: (970) 249-4392
Montrose Troop, Office
Pagosa Springs - Post
46 Eaton Drive, Suite 1-A
Pagosa Springs, CO 81147
(970) 249-4392
(970) 731-2039 (Fax)
Dispatch: (970) 249-4392