The Colorado State Patrol Professional Standards Section was created to ensure that all allegations of misconduct are independently investigated to maintain public trust, to preserve organizational integrity, and ensure that all citizens and members of the Colorado State Patrol are treated with fairness and respect. The Professional Standards Section reports directly to the Chief of the Colorado State Patrol and is responsible for conducting investigations as assigned by the Chief.
All investigations pertaining to officer involved shootings will be conducted by the local jurisdiction's critical incident investigation team. The Colorado State Patrol will administratively investigate any Colorado State Patrol member involved shooting in accordance with guidelines established by the Colorado State Patrol Critical Incident Manual. The Colorado State Patrol's Professional Standards Section is responsible for all reports pertaining to the incident, to include reporting to the Division of Criminal Justice (DCJ). Access more information regarding agency investigation and reporting requirements of officer involved shootings.
In addition, Professional Standards Section personnel investigate excessive force allegations, bias-based policing allegations and any other employee related matter as assigned by the Chief. The Section also retains complaint records, use of force records, officer involved shooting case files, pursuit reports, and other critical incident files.
Compliments and questions are directed to our Public Affairs department, where the PIO on duty can take your call or email. If you do have a complaint, you can submit it to the Major in command of the district where your incident occurred. If you do not know the location of the incident, you can contact Captain Joy Grissom at the Professional Standards Section. Obtain more information on filing a compliment or complaint.
2021 Executive Accreditation Report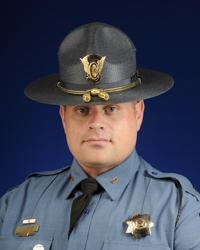 Captain Jeremiah Sharp
700 Kipling Street
Denver, CO 80215
(303) 273-1703
jeremiah.sharp@state.co.us