Currently, the State of Colorado has a secondary seatbelt law under which CSP troopers issue citations for drivers or
passengers not wearing a seatbelt.
In 2020, of the 526 people involved in fatal crashes, including passengers at any position in the vehicle, 200 were not properly restrained.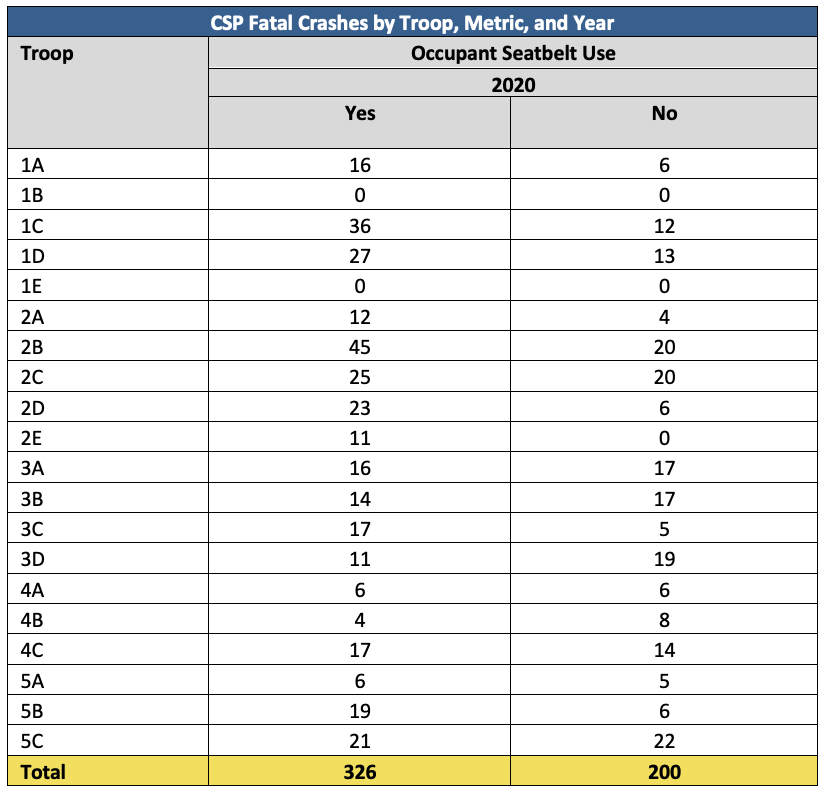 _______________________________________________________________________________________________________________________
Why doesn't every person who gets in a car buckle up? Many of the reasons are shrouded in myths that have no basis in reality, such as:
Myth: I know a friend of a friend who would have been killed if they had their seatbelt on.
FACT: When you wear a seatbelt properly you have a 50 percent better chance of surviving.
Myth: It takes too long to put on a seatbelt.
FACT: It only takes two seconds to buckle up.
Myth: I have airbags installed in my car. I'll be fine.
FACT: Airbags alone are only 42% effective at providing protection.
Myth: Seatbelts rub on my neck they hurt.
FACT: Seatbelts can, and should be adjusted to provide protection and comfort.
Myth: Everyone already wears their seatbelts all the time.
FACT: Current seatbelt use in Colorado is 82%.
Myth: I can\'t make people in my car buckle up.
FACT: A driver can be ticketed for a front-seat passenger not wearing a seatbelt.
Please join the thousands of Colorado motorists who know that seatbelts save lives. Not only will you substantially increase your chance of survival in an accident, but you will save yourself some money too.