In 1978, Ted Rosack, the FBI's Special Agent overseeing Denver's FBI office had the idea to create a Colorado memorial to honor law enforcement line of duty deaths. A memorial committee formed with one representative from each of the then-existing Law Enforcement Associations in Colorado. Colorado Law Enforcement Training Academy (CLETA) at Camp George West was selected as the site for the Colorado Law Enforcement Memorial. After considerable work, 105 names spanning from 1881 - 1979 were approved for the memorial at its dedication on May 1, 1979. Ted Rosack retired from the FBI in 1979 and remained on the committee as the memorial's founder.
The memorial was unselfishly funded from its inception through 1986 by Shirley Brown of SLB, Inc. Since 1986, the memorial has been funded by donations from the Colorado law enforcement organizations that comprise the memorial committee and private donations.
In 1998, Senate Joint Resolution 98-014, passed, stating: "That the Colorado Law Enforcement Memorial located on the grounds of the training academy at Camp George West be declared as the official memorial recognizing all law enforcement officers who have died in the line of duty in Colorado."
All law enforcement officers who have passed away in Colorado and those Colorado officers who have died in surrounding states since Colorado became a Territory on February 28, 1861 are eligible for inclusion on the memorial.
The first Friday in May of each year is the annual memorial ceremony where the names of officers who were lost in the line of duty the previous year are added.
Colorado Fallen Heroes Biographies | Alphabetical (PDF) | Chronological (PDF) | Memorial Book Online Committee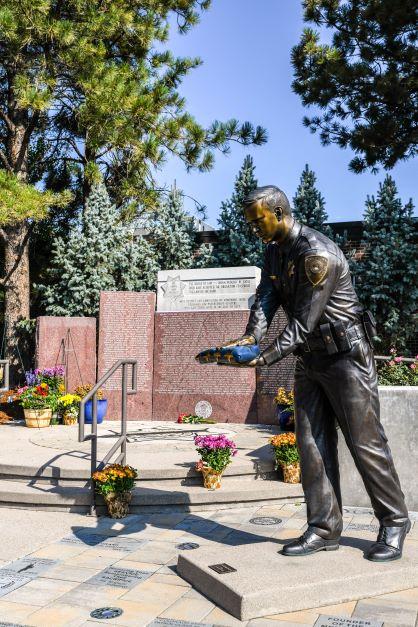 Additional Resources
National Law Enforcement Officers Memorial

Concerns of Police Survivors (C.O.P.S.)
Officer Down Memorial Page, Inc.